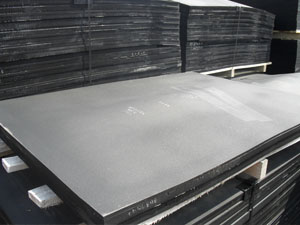 H
UMANE COMFEZE COW MAT
– (4' X 6' - 3/4" thick) Humane Comfeze Cow Mats provide increased comfort and protection for your herd. Comfeze Mats provide cushioned comfort as well as insulating against cold and damp floors. In addition, these mats protect against leg and udder injuries and virtually eliminate swollen leg problems and the textured surface adds traction for better footing. All of this adds up to higher milk production. Humane Comfeze Cow Mats are sanitary, non-absorbent and easy to clean. They require less bedding and are virtually maintenance free. This pad comes with a 12 year warranty!
HUMANE SUPREME COMFORT PAD - (4' X 6' or 4' X 5'9" or 5'6" - 1 3/4" thick) Humane Cow Mats are the "Supreme Comfort Pad." They have a non-skid surface and are non-porous, totally non-absorbent. These Supreme Comfort Pads are also anti-fungal and anti-bacterial to ensure your herd stays healthy. The Supreme Comfort Pads are easy to install and are custom-sized for your facility. The Supreme Comfort Pad has a written 5-year warranty. Custom sizing available for any width and length.
ALSO AVAILABLE: PARLOR MATS, INTER-LOCK MATS & TRAILER MATS
Click here to see the complete line of Humane products.