Order Any of Our Stalls Today by Calling 800-688-0104
Our Stalls are Built Right!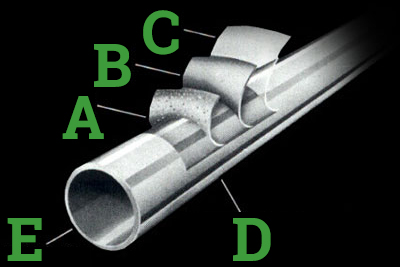 A – Hot-Dipped Uniform Zinc Galvanizing
B – Chromate Conversion Coating
C – Clear Organic Coating
D – Cold Formed Steel Providing High Tensile-Yield Strength
E – Interior Coating
Freudenthal uses 50/55 tubing, which is uniquely protected by Gatorshield, a triple coated process that seals out most corrosive environments. This process applies a heavy coating of hot-dipped zinc galvanizing, a layer of chromate to further enhance coverage and provides that tough hide Gatorshield finish.